6 Ways ABC (Associated Builders and Contractors) Members Can Out Strategize & Out Perform Competitors Month-After-Month Using This Easy To Implement, Proven Profitable Formula That "Wins" In Any Geographic Area In The USA!
To stay competitive, contractors of companies of all shapes and sizes are continually looking for ways to win work and increase profitability. What we admire most about ABC is that it's an industry-focused, pro-business association created by fellow contractors and dedicated to helping every chapter member grow, succeed, and set and accomplish new goals for their company.
We at Earn More Do Less and ShowroomMarketing.com appreciate the importance of arming business owners with the education and training that can easily make internet marketing win MORE CLIENTS for you! We have a proven track record with Building Companies of all sizes using trackable, measurable analytical intelligence that is sending them predictable, consistent client-targeted traffic to their website. This means that you can easily win more sales and market share, month after month!

Want to know how new prospects can find you ahead of your competition? Target a higher paying clientele or expand your market or find new audiences who want your stuff? We can show you how your business can harness the power of analytics on 30+ impact points. These data points eliminate dead-ends and identify new sales opportunities, building a measurable, scalable, direct lead generation automation that brings the clients you want to buy from you.
We put you in the Google driving seat.
"Winning" business on the internet, much like building a house, needs a strategy and detailed plan with goals and deliverables. Begin as you would building a new home, it all comes down to a solid, strong foundation.
In the online world, the strong foundation is your presence on Google's Search Engine. When your clients or new prospect need what you bring to market, evidence from almost every source we know, say that 82-94 of every 100 people go to Google first to find what they need. After "Googling" what they need, research also suggests that this person will buy from the first, second, third, etc. website that Google recommends to them during their search query.
We have put our proven "customer growth" method into a step-by-step set of deliverables so you can seamlessly get repeatable, scalable results month in and month out. The cherry on the top is that our system works for any local market in the United States. Let us show you how you can become the local or nationwide authority in your field.
What we hear from our ABC member clients is how frustrating it can be to KNOW that a powerful sales generator (Google) is right at your fingertips, but not know how to make Google bring prospects to you!

The internet game does not have to be overwhelming or be a shot in the dark! Our process is customizable, measurable. We will tailor a strategy to your needs, based on geographic location and your customers, plus we'll break everything down into easy-to-understand presentations when we meet with you monthly for a full report on your progress!
The 6-Part Formula to "Win" More
Business Because Of Your ABC Affiliation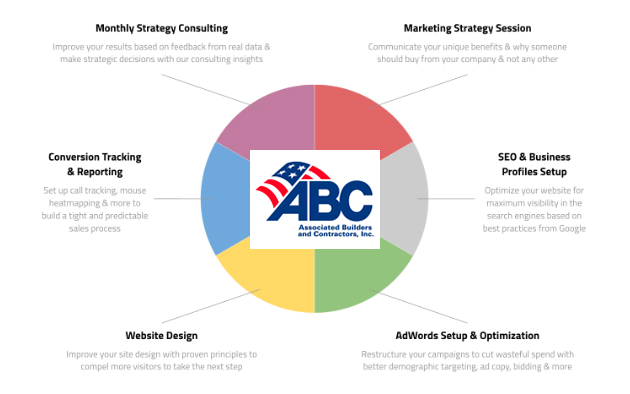 How Other ABC Members Are Using This 6 Part Formula to Take
Control of Prospect Generation & Grow Their Revenues Consistently!
1. Marketing Strategy Session
Are you clearly conveying your Unique Selling Proposition (i.e., what you do better than anyone else) in a way that your customer understands and when they see it, they're yelling out "Yes, I'm ready to buy from you!"? Can you name the top benefits of what you offer and a bold risk-reversal guarantee to differentiate you from all your competitors? What about the unique things you do that nobody else in your market is doing? You've got to tell the RIGHT people that you've got what THEY WANT and make it as easy as possible for them to buy from you.
We have clients who have offered a "no re-stocking fee" when a product is bought at their showrooms, free services if x,y and z don't happen once you work with them and their team, and who have put flex-pay programs in place. By removing all pressure & risk from customer purchases, these clients of ours in your kitchen, bath, design community, and showroom space, use our framework to get in front of the RIGHT people and clearly offer them what they want! The easier you make it for people to self-select you, the more growth you'll have.
2. Website Design
A website isn't just a pretty picture gathering dust in the online galaxy. You can turn your website into your best salesperson – working around the clock, even when you aren't physically open for business! For starters, you have to make clear decisions on your website objectives. What does optimal website performance look like for your business? Is it maximizing brand exposure, increasing email subscribers, tracking phone calls, incentivizing mobile phone leads? Once you know the exact and optimal role your website can play in your sales process, you need to optimize your website so that you can easily reel in the big fish ready to bite in the deep blue online ocean!
Using heat maps and specific analytical benchmarks that track the performance of your integrated website-marketing strategy, we can tell you what leads are doing when they visit your website. Once we know this, we can set up processes to move them to exactly where you want them to go – more sales or more calls to book consultations! It's incredible the difference it can make when your website, google and automated client sales processes all start working efficiently together.
To effectively accomplish the above, we'll customize a proven recipe which involves aesthetics, functionality, typefaces, colors and navigation so your customer gets the best experience possible on your website, regardless of which device they're using to find you.
We'll also share with you the tricks of the trade that increase sales and market share. For example, speaking to your clients where they are at and clearly explaining how you're the best entity to deliver what they want! An awesome tactic to encourage sales and win the trust of new prospects is to integrate compelling headlines and client testimonials (ideally featuring the client faces), and most importantly, an introduction video that shares "why" you do what you do, not just "what" you do.
Don't forget to remind your customer what to do next: tell them to place that order with you or set-up a consultation.
If you'd like to see how we use web design to accomplish specific growth goals for our clients, visit our case-studies page.
3. Search Engine Optimization (SEO) & Business Profiles Setup 
It's now time to take SEO off the "high priority list" and into your "high-performance list". Setting-up optimal and keyword-rich page titles, descriptions, meta tags, URL structure allows Google to 'read' your website. The more readable your website is for Google and the more you implement our Google Search domination tactics, the more predictable and consistent traffic you'll be driving to your website.
Here's another trick of the trade. This one's on the house!, Be sure to set-up your website in the Google Search Console to ensure you don't miss indexing any important pages or risk penalization by Google. Believe us, you don't want to be held hostage to Google's Search Penalties.
Want competitors to click on you ahead of the competition? Set-up your "Google My Business Page" with your logo, custom designed cover photo, company introduction, and Google Maps address. Then, once you have a Google My Business Page that you can be proud of, don't be bashful about getting lots of reviews on your page. Your sales results will thank you!
Finally, no SEO program or website optimization is complete until Google Analytics is properly installed. This is one of the top business growth tools we see used incorrectly. Tracking and knowing where visitors come from, what they did on your site, and where they exit is what will allow you to lay the groundwork for achieving a predictable marketing and sales process on the internet.
This Review Of A Super Creative Company Online Will Teach You A Ton
4. Conversion Tracking & Reporting
Setting-up call tracking to discover where every phone call comes from and the average time per call from different marketing channels is imperative. Also, having a heat-mapping software installed to track the behavior, mouse movement, and cursor clicks of every visitor on your site helps to discover where your design needs to be improved and where you are leaving uncollected revenue on the table.
Also, setting up web forms to capture contacts who get redirected to a thank you page and syncing that data into a central contact database or Customer Relationship Management system (CRM) system is a no-brainer.
Finally, if you are investing money in internet advertising, such as pay-per-click, it's vital to maximize your conversion tracking pixels in AdWords to know the exact keywords your phone calls, form fill-outs and web orders come from. We can seamlessly help you apply this integrated 6 part "win" more business framework to your business so that you can increase sales month-after-month!
If you haven't watched the videos in this blog post yet (especially the one just above this text), I would do it now 🙂
5. AdWords Setup & Optimization 
Want to know how your competitors are sending hungry prospects to their website every day? You can target people in specific geographical locations searching for the services and products you have to sell them! We will restructure your campaigns with optimal audience targeting, cutting out wasteful spend and increasing conversions. This is extremely important if you want to show up on the first page of Google for EVERY search that occurs for the keywords that the clients you want are using to search for the services you offer.
Google Adwords precision is all about dialing-in your keywords, search terms, ad groups, ad copy, demographic and geographic settings, and bidding strategy. Always on the lookout to take your strategy to the next level, we'll help you hold that competitive edge by researching your competitors' advertising footprint so you know their most profitable keywords, ads.
Once armed with this information you'll have measurable, verified tactics that will capture more market share.
You can use this website to learn more about what your competition is doing with the Google AdWords platform.
6. Monthly Strategy Consulting
If you are not sure where the growth opportunities are for your business online each month, what on Earth are you doing?!
As the late, great Dr. Stephen Covey would say, "begin with the end in mind." If you have no clue how to turn your website into a salesperson and make Google work to win business, I suggest you have our team put together an Analytics Intelligence Video for you so that your key decision makers will be on the same page. In this video, for no cost at all, we will share which marketing metrics could make the biggest difference for bettering your bottom line and what tweaks will position you as a leading business in your marketplace.
If you feel you're not yet at the online performance level you'd like, I strongly suggest booking what we call a 5ish minute Business Breakthrough Call. On this call, we will discuss client-attainment strategies that can work for you.
Remember, the video and/or phone call are on offer to you at NO COST at all…. that's right, you have absolutely nothing to lose and everything to gain by booking a time to speak with us or having us film an Analytics Intelligence Video for your business.
To higher profits and beyond you go!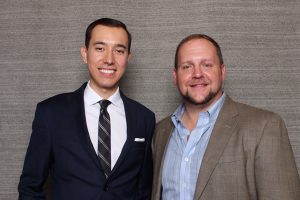 John Gosselin & Austin Pike
Co-founders, ShowroomMarketing.com
(781) 780-2110 | Book A Time To Talk
PS – Our company has worked in varying ways with many Associated Builders and Contractors members. In truth, we know just about every "nook and cranny" that a company affiliated with ABC would ever want to strategize and optimize online, which is exactly why Jessica Serafin at ABC headquarters in Washington D.C. has put our webinar into the rotation for 2017.
So, if you're serious about growing your enterprise through the internet, book a call with our team or get the video filming process started immediately! Space and availability to work with us is limited.