In a day and age when most technology companies have a stigma of hiding behind computer screens and sending customer support requests through an automated platform, John Gosselin, CEO of Earn More Do Less values that face-to-face time with clients. John believes that this "face time" puts an added emphasis on ongoing long-term client relationships.
Recently, on a trip to Los Angeles, Santa Ana, Orange County and Hollywood, California, John met with three people who bring entirely different products and services to the market.
Stop #1: "Old Town" Orange, CA – Le Gourmet Kitchen
Orange is a quaint, throwback-kind-of-town that leans on Le Gourmet Kitchen to upgrade dining spaces where many families make the most impactful memories.
John met with Bruce and Jonathan, co-owners of Le Gourmet Kitchen after initially connecting with them at the Kitchen and Bath Show in Las Vegas in February 2019.
During his trip, John, Bruce, and Jonathan had specific questions about how more ideal buyers can find Le Gourmet Kitchen on the web, how to get more raving reviews about the company online, and most importantly, how to have all business development "heavy lifting" done for them in a hands-off way.
Stop #2: Santa Ana, CA – Brochure Holders 4 You
John met with John Diaz, President of Brochure Holders 4 You – a Clear Ad company. The focus of the meeting was to finalize the launch of their new eCommerce-enabled website.
However, after speaking with the BH4U team, and touring their manufacturing, packaging, and shipping facility, the two Johns discussed how there were "gaps" in how Brochure Holders 4 You relates to ideal clients and was going about using technology when servicing their clients.
They put a new initiative together, which involved filming a video specifically for new fans and clients and also constructed a plan for using the Internet and digital channels to generate more B2B engagement for the company using an outbound, cold email lead generation program.
Stop #3: Hollywood, CA – Renaissance Design Studios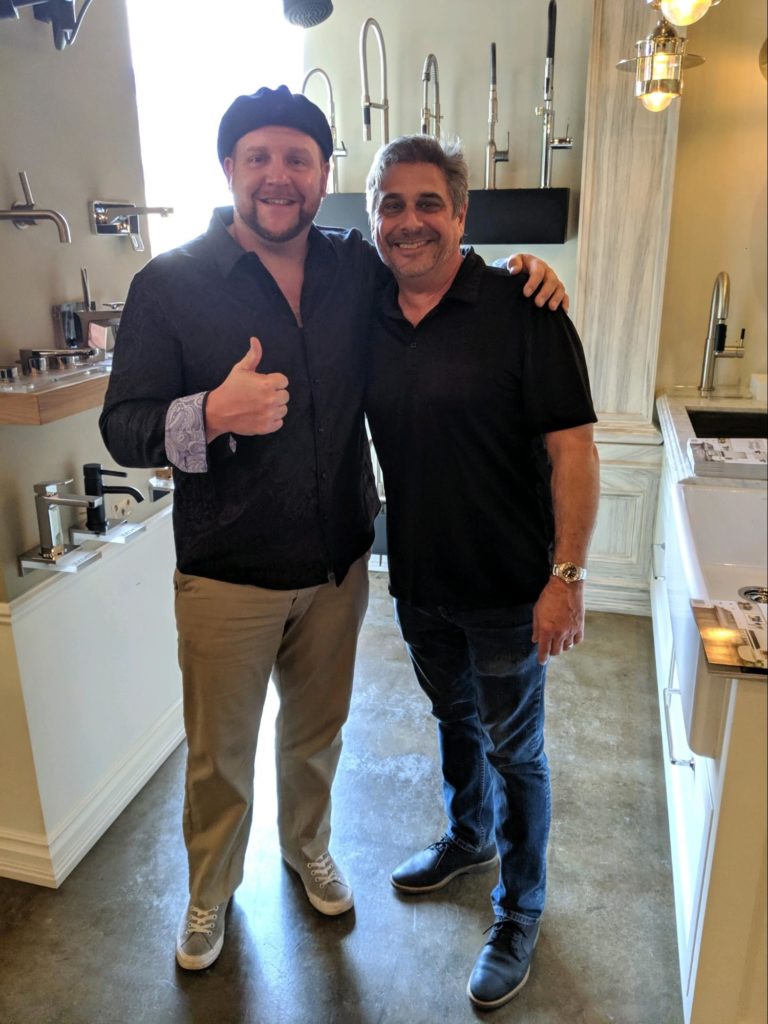 John met with Gary Erickson who primarily works as an expert in the Hollywood market for door and cabinet hardware. Gary has a gorgeous showroom and industry experience like no one else in America. He also happens to be a pristine woodworker! His clientele is star studded and contains dozens of A-list celebrities.
Additionally, Gary is the current President for the Decorative Plumbing and Hardware Association (DPHA) a professional organization dedicated to educating and training showroom staff, customer service representatives, and other industry participants on how to successfully sell decorative plumbing and hardware. John, our CEO also serves as the technology guru and sits on the Marketing Committee for the DPHA.
How can you visit sunny California without doing a little sightseeing? During some "free time" on his trip, John visited the fine, sandy beaches in Malibu, the Santa Monica Pier, Venice Beach, dined at Dukes, and also listened to jazz at the hotel where the cast for The Wizard of Oz stayed during filming – the Culver Hotel, and also shopped at some of the best boutiques in California.
How Can Earn More Do Less Can Help Your Business?!
Finally, John believes that client "face time" is one of the most important elements in building and maintaining long-lasting, meaningful, and valuable client relationships. Not only does the mission of Earn More Do Less support this initiative, but the team also helps clients discover their own unique ways to reach clients, build long-term relationships, and win more business on the Internet.
Let us know if you'd like us to look at your company's website, Google Analytics and Google Ads information and film a review video that shows where you stand, where there is opportunity to grow and gain more market-share, and so much more.
Let's talk soon.
Team EarnMoreDoLess.com